BETH GIBBONS : PROJECTIONS EN AVANT-PREMIÈRE
04/03/19
Pour célébrer la sortie de Henryk Górecki: Symphony No. 3 (Symphony of Sorrowful Songs), dite Symphonie des Chants Plaintifs, interprétée par l'Orchestre Symphonique National de la Radio Polonaise, sous la direction de Krzysztof Penderecki, Beth Gibbons annonce une série de projections à travers le monde du film de la performance. Jason Hazely, directeur musical du projet, et Beth Gibbons seront présents aux projections à Paris, Londres et Berlin. Les deux projections à Londres sont complètes.
En amont de la sortie, découvrez une vidéo 'behind the scene' du chef d'orchestre Penderecki décrivant la préparation vocale de Beth Gibbons pour la performance.
Regardez la vidéo 'behind the scene' ICI.
Regardez le trailer du film ICI.
Découvrez plus d'informations sur le projet ICI.
Les enregistrements audio et vidéo de la performance seront disponibles le 29 mars 2019.
Projections du film
26.03 – Paris, France - MK2 – Bibliothèque
28.03 – London, UK – The Barbican (6:00pm screening / 7:15pm screening) [SOLD OUT]
28.03 – Sydney, Australia – Golden Age Cinema
28.03 – Copenhagen, Denmark - CPH DOX / DFI
28.03 – Madrid, Spain - Sala Plató (Cineteca)
30.03 – Warsaw, Poland – National Audiovisual Institute
31.03 – Amsterdam, Netherlands – Melkweg Cinema
31.03 – Berlin, Germany - Babylon Kino Berlin Mitte
01.04 – Milan, Italy - Santeria Social Club
01.04 – Brooklyn, US – Brooklyn Academy of Music (BAM Rose Cinemas)
Beth Gibbons est la chanteuse, compositrice, productrice et co-fondatrice (avec Geoff Barrow et Adrian Utley) du groupe Portishead ainsi qu'une artiste solo. Cet album est le premier enregistrement de Beth Gibbons depuis 2008.
Henryk Górecki (1933 - 2010) était un compositeur polonais de musique classique contemporaine, considéré comme le compositeur classique ayant connu le plus grand succès commercial de ces dernières décennies. Son premier opus, la Troisième Symphonie, dite Symphonie des Chants Plaintifs, s'est écoulée à plus d'un million d'exemplaires.
Krzysztof Penderecki a été salué comme le plus grand compositeur et chef d'orchestre vivant de Pologne. Sa musique a accédé à un plus large public par le biais de films utilisant des bandes sonores telles que The Shining et The Exorcist.
Le film a été produit par l'Institut national de l'audiovisuel de Pologne et réalisé par Michał Merczyński.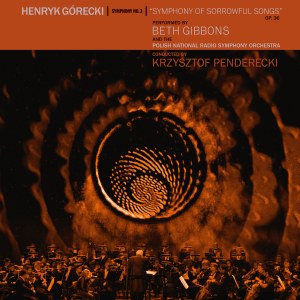 Tracklisting
I. Lento — Sostenuto tranquillo ma cantabile
II. Lento e largo — Tranquillissimo
III. Lento — Cantabile-semplice
Henryk Górecki: Symphony No. 3 (Symphony of Sorrowful Songs) interprétée par Beth Gibbons et l'Orchestre Symphonique National de la Radio Polonaise sous la direction de Krzysztof Penderecki sera disponible en édition deluxe et standard LP et CD avec un DVD, et en digital : Deluxe LP + DVD | CD + DVD | Digital